Interview
Interview: composer/pianist Mina Cho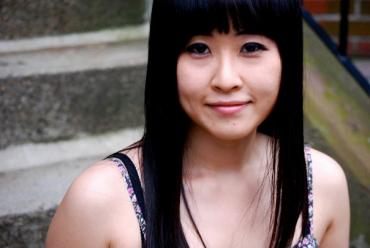 Jazz is not one-dimensional. Its stylistic scope can be expanded, incorporating other genres. For composer/pianist Mina Cho, jazz is simply a bridge for her vision to cross from one stream to another. On her latest album Love Transformation, Cho weaves her jazz influences with classical, Gospel, and world music. Uniting them not only enables her to stimulate her creativity but bring her closer to her ethnic roots.
Q: What was your introduction to music? How old were you, and how did it affect you?
A: While my parents are not musicians, they are enthusiastic music lovers.  As far as remember, my mom and dad loved singing and dancing, and I always loved to reproduce the sounds I was hearing on the little toy piano that my dad had bought for me.  I was around five years old when I began to take piano lessons.
Music was something that gave me a lot of comfort.  I loved the intimate moments between the music and myself, nothing else.  In my imaginary world that the music created, I could do anything and could go anywhere.     
Q: Did you grow up in a musical environment?
A: While growing up, I was exposed to various musical settings, such as school and outside school choirs and orchestras as well as church worship music.  I started serving as a pianist at a small Baptist church in Korea when I was 12; interestingly, since then I have always been a church musician.  Currently, I serve Somerville Community Baptist Church as Director of Contemporary Music.   
Q: What styles of music had the greatest impact on you creatively?
A: It is interesting that I am inspired to be more creative in music by people's stories and their philosophies and cultures rather than particular styles.  When someone's stories and thoughts resonate with me, I am motivated to find out more about that person; the people I come across are often musicians, but not always.
Lately, I have been captivated by the passion, love, and creative minds that these two musician friends of mine have toward the traditional music of their native countries: Vasilis Kostas from Greece.  Vasilis plays the laouto (Greek laouto) in my recent album Love Transformation.  We first met through our common friend, George Lernis, who plays the drums on the album.  In the course of building up our friendship and musicianship together, I have always been amazed not only by his virtuosic playing but also by his genuine love and dedication to the music from Greece, particularly the music of Petroloukas Halkias.  I soon became curious about Halkias - such as his performance styles, the meaning of his musical legacy in Greece, and his like and philosophy of music - and started listening to and transcribing his music.  I recently gave a concert with Vasilis, George, and Neil Patton (bass player), during which I presented my own interpretations of Halkias's music under the theme of "In Our Spiritual Journey."
Learning that transformation of ethnic idioms in jazz can add another layer of creativity and realizing how little I know about my culture, I was motivated to find out more about the music of my roots.  Accordingly, my research interests for my doctoral study at New England Conservatory have included Koreaness in Jazz, Korean Jazz Songs in the 1930s, and a comparative study between American and Korean jazz idioms.  I recently picked up one of the Korean traditional instruments, the gayageum, to learn, hoping to understand Korean music better and find a respectful way to incorporate the instrument into my own context of music.    
Q: How would you describe your experiences at the Berklee College of Music?
A: The opportunity to study at Berklee was a miracle to me.  Due to the financial difficulties that my family was going through at the time I was hoping to come to Boston to study at Berklee, the hope seemed like just a dream in a fairy tale.  However, God made a way somehow!  I happened to share my story with the congregation at the church I was serving as pianist, and they supported me with their love offerings.  Because of their loving support, I could buy my one-way plane ticket to Boston, pay the first and the last month's rent fees, and the rest of the tuition for the first semester after scholarship.        
Therefore, every single moment at Berklee was meaningful and precious, and I enjoyed it to the fullest.  It was the time for me to enrich my musical languages, pushing the stylistic boundaries of jazz.  Mainly, I appreciated the opportunity to study with Leo Blanco, who creatively incorporated musical elements from his native country Venezuela as well as other parts of South America and Africa at large into his modern jazz writings and improvisation.  I learned a lot by transcribing his improvisations and performing most of his beautiful compositions, which profoundly influenced my music at that time.
Q: How have you evolved creatively? How do you feel about pushing the stylistic boundaries of jazz?
A: While studying at New England Conservatory (NEC) for my master's and doctoral degrees, I was challenged to extend not only stylistic boundaries but also conceptual boundaries of jazz and music at large.  NEC has a unique environment where American jazz merges with classical music and various other traditions and philosophies.  It has been a valuable time for me to ask to myself about the nature of music, boundaries between different musical traditions, and how one can creatively and respectfully employ other musical traditions into his or her unique contexts.  While I am in the last phase of my doctoral degree at NEC, I have been fortunate to be accepted to Brandeis University for a Ph.D. in Musicology, where I plan to continue my research on Jazz Criticism (Classical and Ethnic Idioms in Jazz) and Music and Religion.
Q: What is the jazz scene like in Boston?
A: I love living in Boston primarily because of its vibrant music scene and the people who have open minds toward musical styles and various other aspects of life.  One of the most valuable elements that shapes Boston music scene is that there are so many talented and creative musicians and other artists to collaborate.  Besides, I receive profuse inspirations from passionate young musicians who are studying at great music schools around here, such as Berklee College of Music, New England Conservatory, Longy School of Music, and Boston Conservatory.
Q: What artists influenced you the most growing up?
A: When I began learning piano at the age of five, classical music was a lot more popular than jazz in Korea.  Even when I was pursuing my musical path to be a classical pianist, however, deep down in my heart, I always had a jazz and Gospel soul. I fell in love with the music of the Romantic period, especially with the four Ballades composed by Frédéric Chopin; I loved the improvisational quality of his music and used to improvise on the piano imitating the Chopin sound just for fun. I also loved the music of Mariah Carey in the '90s.  One day I watched her live concert video, in which her co-producer and co-writer Walter Afanasief was playing the piano to accompany Mariah's singing.  I just fell in love with Walter's Gospel, pop, and soulful sounds, and hoped someday I would be able to play the piano like him.
Website: